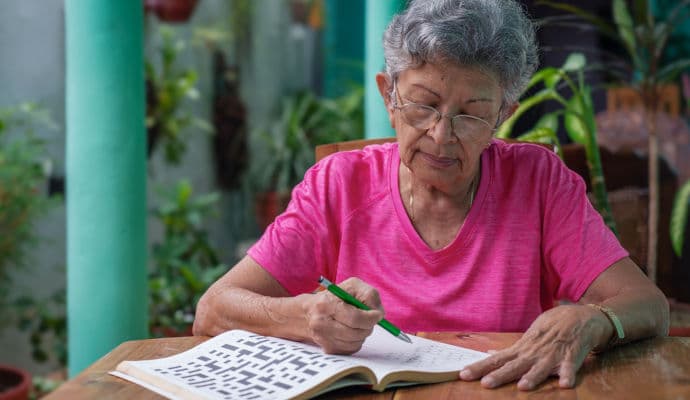 By Connie Chow, Founder at DailyCaring
Crossword puzzles exercise the brain
Doing something that's enjoyable and mentally stimulating can improve quality of life.
In addition to the fun, studies have shown that brain exercises can keep seniors sharper for up to 10 years longer.
And, games like crosswords may even help older adults prevent brain plaques associated with Alzheimer's disease.
To keep your older adult engaged and exercising their brain, we found a great source for free, large-print printable crossword and word search puzzles.
Here, we explain what you'll find at their website.
Print puzzles for free, anytime
As part of their business, Q.E.T.S. offers free large print crossword and word search puzzles. They also have sets of 20 or 80 puzzle PDFs available for purchase.
We love their huge selection of free large print puzzles. They're in PDF format so they're easy to print.
All you need to do is open the PDF document and print it out. You could also save the PDF to your computer so you can print it again and again.
These free crossword puzzles will keep your older adult entertained and exercise their brain. You might even want to print a few for yourself to enjoy!
Tip: If the puzzle still isn't large enough for your older adult to easily see, you can make it bigger by changing the print settings. Use "print preview" to make sure the puzzle still fits on the paper.

Get new puzzles every month
Every month, Q.E.T.S. publishes new free puzzles – 5 standard crosswords, 5 free form crosswords (a non-square shape), and some word search puzzles.
That's a dozen new puzzles each month!
There's also an extensive archive with dozens of each type of puzzle from previous months.
See the large-print crossword puzzles
Here are a few scaled-down images to show you what the puzzle types look like. When you print them, they'll be larger than what you see here.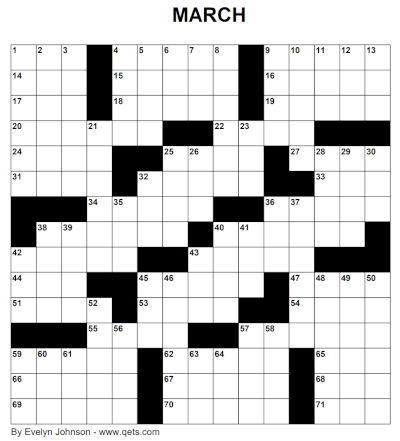 Standard crossword puzzle
Free form crossword puzzle
Word search puzzle
Next Step  Get free large print crossword puzzles at Q.E.T.S.
Recommended for you:
Author: Connie Chow, founder at DailyCaring, was a hands-on caregiver for her grandmother for 20 years – until grandma was 101 years old! Connie has an MBA from the University of Southern California and has been featured on major news outlets, including WJCL22 Savannah (ABC), KRON4 San Francisco, NBC10 Philadelphia, 23ABC Bakersfield, KAGS Texas (NBC), and KVAL13 Oregon (CBS). She has spoken at Institute on Aging, written for Sixty and Me, and been quoted in top publications, including U.S. News & World Report, HuffPost, and Society of Senior Advisors.
This article wasn't sponsored and doesn't contain affiliate links. For more information, see How We Make Money.
---