Quick links:  Why DailyCaring?  |  Who Is DailyCaring For?  |  Founders  |  Testimonials  |  Awards  | Events  |  How We Make Money
Why DailyCaring?
When you're struggling to care for an older adult (and stay sane), you need practical answers fast. We help you solve the frustrating day-to-day problems that make you lose your temper or keep you up at night.
Today, there's no shortage of information available to family caregivers. But who has time to dig through everything on the Internet just to find that one nugget of info that can help you? We're here to do that digging for you.
We search everywhere to find the most practical and useful tips, advice, personal stories, and resources related to caregiving and aging. Then, we boil it down to the most important points you'll want to know.
Our website is easy on the eyes. easy to navigate, and makes it a snap to find the information you need right now. Make it even easier by subscribing to our daily email newsletter so you never miss out on the latest. It's delivered straight to your inbox.
When you're informed and empowered, you improve health and wellness for both your senior and yourself.
Give us a try today and we promise, you'll be hooked. And if you're not, write us at hello@dailycaring.com to let us know what you'd like to see or how we can improve. We're here to help.
---
Who is DailyCaring for?
DailyCaring is here to support the 43.5 million family caregivers who care for someone 50+ years of age. We're also here for the 14.9 million people who care for someone living with Alzheimer's disease or dementia.
We're perfect for family caregivers who need practical solutions for day-to-day challenges, help with important care decisions, and advice on how to plan for the future.
We're also here to help professionals in the aging care industry. Nobody can be an expert in all things aging and caregiving. We have answers that help you with your work and benefit your clients.
---
Founders

Connie Chow
Connie was a hands-on caregiver for her grandmother for 20 years. (Grandma made it to 101 years old!) She knows exactly how challenging, overwhelming, and all-consuming caring for an older adult can be. She also knows how important support is — especially in the form of practical solutions, useful resources, and tips for self-care.
Connie has an MBA from University of Southern California and a Bachelor's in Economics from University of California at Berkeley. Prior to founding DailyCaring, she was a Vice President at Wells Fargo Bank and managed the development of consumer and small business online banking applications. Her past experience also includes Internet and software product management at NexTag.com and Marimba.

Brian Yu
Brian has both young children and aging parents – caught in the classic sandwich. He's passionate about creating a website with easy-to-use advice, information, and recommendations for those caring for older adults.
Brian has an MBA from University of California at Berkeley and a Bachelor's degree in Biomedical Engineering from Johns Hopkins University. Prior to founding DailyCaring, he was Director of Mobile Apps at Fanatics. His past experience also includes mobile product management at BitTorrent and Zinio, management consulting at Accenture, and product management at Shopzilla and Yahoo!.
---
Testimonials
Thank you, for all you provide to caregivers. You are an amazing group. I am always providing your emails forward to all that are old and new to caregiving. You have no idea you have helped me on my journey with my parents. My Mom is 101 and has been living with me since 2015. It's a hard journey but with your help it does help me with my patience and care. – Gina M.
So many of the articles were relevant, practical, helpful and supportive of me as a carer as well as helping me to understand how to help Dad. They also prepared me for what was to come and how to manage things as successfully as possible. I cannot praise your organisation enough and I am so grateful for the contact with you and the articles you sent me each day. —Christine D.
At times where I felt alone and drowning, DailyCaring was a lifeline. I had daily emails that somehow always knew what I needed to know. You took some of the fear of the unknown away and instead empowered me with knowledge, scripts, and products to try to fight through some incredibly difficult times. Thank you for being my lifeline. Thank you for helping me give my mother and my family a better life. —Nicole W.-S.
Thank you for the best website out there. A number of us turn to you regularly. —J.S.F.
I ABSOLUTELY L❤️VE the Daily Caring website & FB page! Thank you for gathering much needed info for senior care & putting it into one easy to access & navigate location. —Martha S.
THANK YOU for your emails, it has helped me out A LOT with my mother. Your articles are very informative and a short read with a lot of information. —Mercy M.
Thank you for your encouragement and support. Your articles are a valuable education. My husband was diagnosed in early December with moderate to severe vascular dementia which happened rapidly. The decline was shocking. I've learned quickly from you how to deal with his delusions and sundowning. It's amazing how your tips have worked at this stage. Our home is calm. I'm sure worse is coming but I have good supports in place. Thanks again. Keep up the good work. —Dianne B.
I so enjoy getting emails from DailyCaring. The information, games, and the exercises are all so helpful. I live 8 hours away from my mom who has Altzheimers but yet I am able to do so much through FaceTime implementing so many things I have learned from you. —Nancy F.
"…your emails were full of useful advice, tips, and insights that kept us all going. Keep up the great and important work!! —Dina
Hello 👋 and thank you for your emails on caregiving. After reading them, I feel more secure, refreshed, self confident and confident. I am a personal care attendant /home health aide and I've worked with people who have had various types of diseases and or conditions. It isn't possible for us to take classes, or our work places to provide classes on various issues anymore. Covid, among other realities have slowed down these benefits. Sooooo 🤗 again, you are appreciated 👍. —L.S.
The DailyCaring email is one of the best on the internet. Easy to understand and broad knowledge base. —Joe S.
I appreciate receiving the newsletter. It has good variety, easy to read suggestions, and a friendly tone. —Lois
I am the Education Coordinator for a top home care agency in the U.S. I cannot thank you enough for this DailyCaring newsletter for dementia clients, it is very helpful not only to the families, but also as a teaching tool for caregivers. Well done. —T.H.
It's like the Reader's Digest of caregiving and aging information. —R. C.
I find more people in my life who are put in a temporary or permanent caregiver duties so I have forwarded your emails on to many. One example – I know a senior friend of mine who had a need for help getting to doctor appointments for a new health issue that made it hard for his mobility. He was able to get signed up with one of the senior ride services I'd read about and forwarded his way. You provide a lot of good info! —S. F.
Every morning when I wake up, I have about 100 new emails. But I always read the DailyCaring email. I love the articles! —S. S.
Thank you for the excellent post today on The Big List of Gift Ideas for Seniors. So many adult children and grandchildren are at a loss for what to give a loved elder. No one wants to give yet another 'trinket' that adds to clutter and requires dusting. These ideas are terrific, especially the 'experience' ideas – taking them to dinner or an outing, or hiring SilverRide to do so if the family is too far away, certificates for pampering, or practical 'helper' gifts – all are great suggestions. Your website is such a terrific resource! All of your articles are thoughtful, address a need or question and are full of practical information, tips and resources. Not like the other leading caregiving websites – they're all full of fluff! Thank you for all the effort you put into each article, it really shows in the quality of the information. —I. D.
I enjoy reading the DailyCaring posts. They're like my daily regimen now. DailyCaring always gives me practical tips that I can use when I connect with my mom who is 90 years with Lewy Body Dementia. Family caregivers tend to forget about themselves. Thank you for the reminder, from now on, I need to stay more active physically and mentally to prevent myself from cognitive decline. Keep up the great work! Connie, sharing your 20-year elder care experience and knowledge will benefit the baby boomers and their elderly parents in a great way. And, sharing the useful information and helpful advice with family and friends is a great way to stay connected. —V. L.
I like that it's not all doom and gloom like other websites. —J. G.
I didn't know I could get the help I needed from a Geriatric Care Manager. I didn't know they existed until I saw the DailyCaring email about them. It's so helpful to have this information. —R. K.
The information is so useful! I keep all the DailyCaring emails in a special folder so I can find them easily when I need to know something. I also like to send them to other caregivers who might find the information helpful. —K. J.
---
Awards
2018 – 2023 – #1 Best Caregiver Website from Feedspot
2016 – Top 10 Resources for Caregiver Issues from GoodTherapy.org

2014 – Top 5 Finalist in the Best Caregiver Newsletter category in SeniorHomes.com's 2014 Best Senior Living Awards

---
Events
November 2016 – Panelist at the OurParents #ElderCareChat on the challenges, conflicts, and comforts of caregiving
#ElderCareChat is popular live Twitter discussion hosted by OurParents. On 11/2/16, we kicked off National Family Caregivers Month, with a discussion about the concerns, challenges, conflicts, and comforts of being a family caregiver. Connie participated as a guest panelist along with fellow caregivers Denise Brown (@Caregiving) of Caregiving.com and Chris MacLellan (@TheBowTieGuy), author of "What's the Deal with Caregiving?"
October 2016 – Speaker at the Reliable Senior Resources workshop at University of California at Berkeley
On 10/26/16, DailyCaring and Seniorly shared insights into the caregiving journey and discussed helpful local and national resources.
"Caring for an aging parent or spouse can be overwhelming at any stage, but especially when you're just getting started. In this workshop, you'll learn about what to do first, planning for the future, and finding helpful online caregiving resources and advice. Get answers to common questions about home care, assisted living, and other aging care options."
April 2016 – Co-moderator at the OurParents #ElderCareChat on technology and aging
#ElderCareChat is popular live Twitter discussion hosted by OurParents. On 4/20/16, Connie was the featured guest in a discussion on technology and aging.
39 participants discussed the benefits of current and in-the-pipeline technology tools for seniors and caregivers. View the chat transcript and see who attended the discussion – click here.
April 2016 – Navigating Care Conference
Join us at the 6th Annual Caregivers Count conference. It's a FREE event for families caring for older adults hosted by the Aging Services Collaborative of Santa Clara County
When: Saturday, 4/16/16, 9am to 2pm
Where: Campbell Community Center
Cost: FREE, lunch included
Hear from expert speakers about Self-Care and Stress Management, Dementia Communication, Navigating Changes in Care, and Nutrition and Wellness
Respite (relief care) grants may be available through the Alzheimer's Association with advanced notice. Call 800-272-3900 for application.
February 2016 – Co-moderator at the OurParents #ElderCareChat on creativity and caregiving
#ElderCareChat is popular live Twitter discussion hosted by OurParents. On 2/17/16, Connie was the guest co-moderator, lending her insights and unique perspective on the topic at hand.
32 participants revisited a popular topic from last year — ways to creatively care — and discussed how creativity infuses with caregiving, how it can help us manage our stress, and how to find new, maybe even better, ways of approaching the daily tasks that caregivers must do. Attendees both new and returning talked about everything from adult coloring books, to adding music to daily caregiving routines, to creative pet therapy programs involving chickens and baby kangaroos! Check out the transcript to see the full discussion
August 2015 – Guest expert at the OurParents #ElderCareChat on social isolation in seniors
#ElderCareChat is popular live Twitter discussion hosted by OurParents. On 8/5/15, Connie was the featured guest expert on senior social isolation. The discussion was attended by 41 tweeps (Twitter followers) who discussed the causes and dangers of social isolation among seniors and caregivers, along with prevention and intervention strategies.
May 2015 – Institute on Aging's Aging & Technology Conference, Big Ideas, Good Work
Connie spoke about her own caregiving journey with her grandmother, the inspiration behind DailyCaring, how we're making it easier for families to care for their seniors, and shared thoughts on how different types of technology are improving caregiving and aging.
Thanks to Kamran at NuevaCare for these great photos!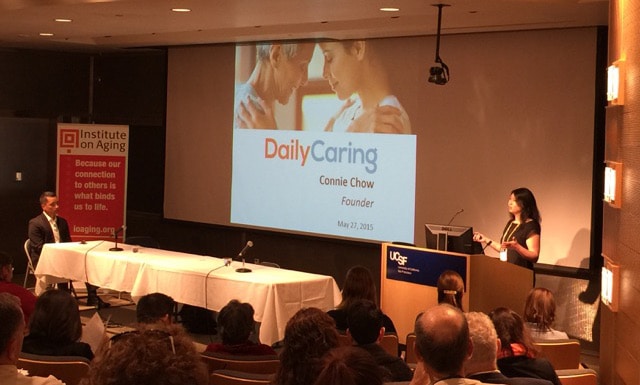 November 2014 – Alzheimer's Association's 10th Annual Circle of Care Conference
This was a fantastic conference with knowledgeable and engaging speakers. Attendees learned about the latest in Alzheimer's diagnosis and treatment, how to watch out for financial abuse, the amazing impact music has, and the importance of advocacy.
We were pleased to be there with Kamran and Kenia from NuevaCare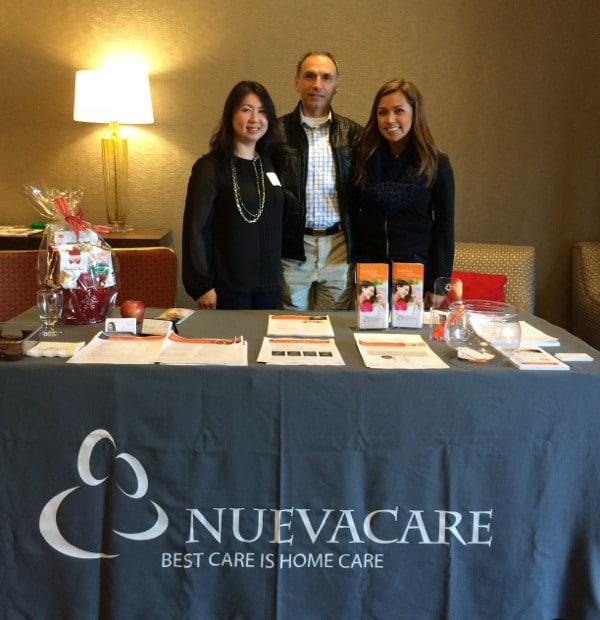 We met Jenn from the Senior Shower Project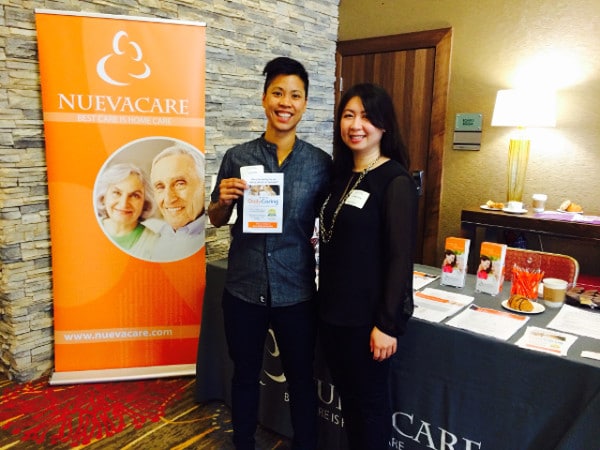 ---
How we make money
We don't accept compensation in return for favorable reviews or product/service mentions. Our content is free to read, but not free to produce. So, our operating costs are covered by:
Advertising
One source of revenue is from our advertisers. These are businesses that are interested in telling you about products or services that you might like for yourself or for your loved one. You may see advertisements on our website, in email newsletters, and, occasionally, in special email messages from DailyCaring.com sent on behalf of our partners.
Sponsored articles, sponsored emails, and ads in our email newsletters will be noted with "Advertisement," "Sponsored content," "Sponsored link(s)," "From our partners," "Partner," "Affiliate," or similar label. If you'd prefer not to receive email messages on behalf of our partners, you can unsubscribe from all our emails at any time.
Display ads from a programmatic ad network are also shown on our website.
Affiliate sales
We use affiliate links on DailyCaring.com. However, not all outbound product links are affiliate links.
This means that in some cases when we link to Amazon.com or other online retailers, we get paid a small commission for referred sales. Meaning, if you click one of these affiliate links and make a purchase, the retailer may give us a small percentage of that sale. There is no cost to you.
Among other programs, we are a participant in the Amazon Services LLC Associates Program, an affiliate advertising program designed to provide a means for us to earn fees by linking to Amazon.com and affiliated sites.
In our Amazon Store (noted with "Store," "Shop," or similar label), we earn a small commission if you buy through our store. All product listings, transactions, and payments are handled by Amazon on their website.
In our articles, we never write about a product or insert affiliate links for the sole reason of earning a commission. If we link to a product, service, or retailer, it's because we legitimately believe it could benefit our readers.
---