Date published: 2023-11-06
By Connie Chow, Founder at DailyCaring
Wonderful holiday gifts for dementia and Alzheimer's
We've rounded up 48 of the best gift ideas that are perfect for people with Alzheimer's disease or dementia.
This is a huge list – within each gift idea are dozens of product suggestions for people at all levels of cognitive ability.
There are fun and engaging games, gifts that comfort anxiety and soothe agitation, activities that give a sense of accomplishment, and more.
We bet there's something here that your older adult is sure to enjoy.
Browse 8 categories of holiday gifts for people with dementia
To make it easier to browse these gift ideas for people with Alzheimer's or dementia, click these links below to jump directly to one of the eight categories on this page or keep scrolling to browse the full list.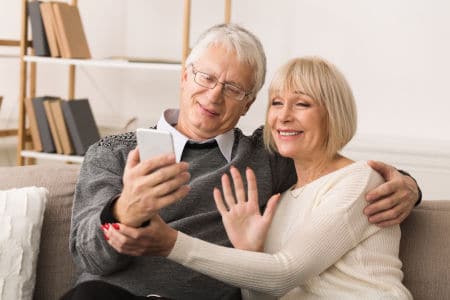 5 innovative technology gifts that keep them connected
1) Amazon Echo Show "Alexa" voice assistant with video calling
The Amazon Echo Show is an Alexa personal voice assistant with a video screen. It's similar to the Echo or Echo Dot, with the addition of a video screen and better speakers.
To make video calls without your older adult needing to take action to accept the call, use the Echo's "drop in" feature.
There are 4 sizes of these devices at various price points based on release date, screen size, and other features:
Tip: When choosing a screen size, think about your family member's vision: is it poor or starting to decline? If so, go with the largest screen size that your budget allows.
2) $55 Amazon Echo (4th Gen) "Alexa" voice assistant with voice calling
This hands-free, voice-controlled device has a spherical design with rich sound, smart home hub, and Alexa.
It makes voice calls, plays music, gives weather reports, reads the news, answers questions, tells jokes, reads audiobooks, checks sports scores, and more.
Set up the "drop in" feature to make voice calls to people who aren't able to actively answer a call. Find out more about how Echo can help people with dementia.
3) $23 Amazon Echo Dot (5th Gen, 2022 release) "Alexa" voice assistant with voice calling
The Echo Dot has vibrant sound and the Alexa voice assistant in a compact smart speaker.
Set up the "drop in" feature to make voice calls to people who aren't able to actively answer a call. Find out more about how Echo can help people with dementia.
4) From $199 ViewClix Smart Frame
These smart picture frames display digital photos in a 10.1-inch screen size ($149, sale price) or 15.6-inch screen size ($219, sale price).
The frame displays photos beautifully and is hassle-free for older adults to use because the management and settings can be accessed remotely by a family member or trusted friend.
The "smart" feature we love most is video calling for up to 4 people with an auto-answer mode. When auto-answer is enabled, the older adult doesn't need to do anything to receive the video call.
This is especially helpful for making video calls to someone with dementia or who isn't able to physically answer a call.
A $9.95/month Premium subscription is needed to access most features, including video calling.
We discuss the ViewClix Smart Frame in greater detail here.
5) RAZ Memory Cell Phone, $309 + monthly service
This dementia-friendly mobile phone is a cell phone that someone with cognitive impairment can actually use.
It has a single screen that never turns off, calling by picture, and emergency services.
Plus, Remote Manage provides families with the unprecedented ability to remotely manage ALL aspects of the mobile phone through a simple app or online portal.
It also has an optional service that answers emergency calls if someone with dementia frequently makes unwanted 911 calls.
9 fun, specially-designed puzzles and activities
1) Activities for Alzheimer's and Dementia
These wonderful, non-childish activities help people with dementia feel a sense of enjoyment, satisfaction, and accomplishment.
$15 Relish – Matching Card Game, Large Images
Each pack of cards contains 3 games of varying difficulty: Snap, Pairs, and Full House. Designed for people with early to mid-stage dementia, the illustrated cards feature easily recognisable images in bold contrasting colors, so players can enjoy a lively game with friends and family with little to no assistance.
$25 Relish Tactile Sensory Matching Game
Especially calming for people in mid to late stage dementia, this activity can support cognitive stimulation therapy. Players can feel and match the textures to the image or group them together based on associations. Or, they may wish to simply feel and discuss the textures, like whether it's soft or rough. This game can be played independently or with multiple players and includes helpful conversation prompts.
$28 Relish Musical Bingo Game
As dementia progresses, music can be used to enhance communication and wellbeing. Designed for all stages of dementia, this game features evocative melodies carefully selected to trigger memories.
$43 BEAT-THE-BOX Fun Game for All Seniors. Ideal for People w Memory Loss or Early Stages of Dementia
This game is a great activity to improve concentration and focus! Simple math and the luck of the dice keeps players entertained for long periods of time. Can be played with 2-4 players or individually.
2) Activity and puzzle books for Alzheimer's and Dementia
3) Recreate handy hobbies
Safely recreate memories of past projects with these tool-based activities.
4) Encourage creative expression with simple art activities
$9 Extra soft, reusable, non-toxic modeling clay
These colorful clays won't dry out, no matter how much they're used or if they're accidentally left out. Cleanup is easy too. There's  no tacky residue that sticks to hands, fingers, and clothing.
$25 Relish Aquapaint Water Painting Packs
Each of these painting packs include 5 vibrant images. Use plain water to "paint" these colorful paintings and give a sense of accomplishment. The color fades as the paper dries so they can be used over and over again.
5) Enjoy block puzzles and free-form building
6) Springbok Puzzles to Remember, from $18
Springbok has designed 36, 60, and 100 piece jigsaw puzzles in a wide variety of beautiful designs for people with Alzheimer's and dementia.
The large pieces are easier to grip and see and the pictures are vibrant and artistic – not at all childish.
7) Relish Magnetic "Puzzles," $30
These puzzles are designed for people unable to do traditional puzzles. They're an alternative with the same level of satisfaction and without the stress of getting it wrong.
In these puzzles, people create their own scene using a set of magnetic pieces that can be placed on the background board.
8) $23 GoodDay Puzzles
These puzzles are specially designed for people with Alzheimer's or dementia. They come in 16, 48, and 72 piece options to suit different stages of ability. Best of all, the box doesn't have any mentions of Alzheimer's or dementia.
9) $30 Portrait Puzzles custom photo puzzle
Use your own photo to create a custom 30 piece custom jigsaw puzzle, 16 x 20 inch size. These puzzles are designed for people with reduced vision, low mobility, and cognitive impairment.
5 activities that give a sense of accomplishment
1) $10 Melissa & Doug Lace and Trace Activity Set: Pets
This lacing activity is especially great for someone who enjoyed sewing. This kit includes 5 fun animal pictures that make it fun and easy to "sew" along the holes at the edges.
2) $14 Coogam 32 Piece Jumbo Nuts and Bolts Set
This set includes brightly colored plastic nuts and bolts in 4 shapes and 4 colors. Enjoy hours of safe fun by attaching and detaching the nuts and bolts or sorting by color or shape.
3) $14 Melissa & Doug Primary Lacing Beads
Large wooden beads with oversized holes are perfect for lacing. This set includes 30 brightly colored wooden beads in different shapes and 2 colorful lacing strings in a wooden storage case. Tip: Buy colorful shoelaces if you need more lacing strings.
4) $14 Melissa & Doug Wooden 24-piece Tool Box
This 24-piece set includes wooden tools, nails, screws, nuts, and bolts.
5) $18 Melissa & Doug Pattern Blocks and Boards
These fun shapes can be used in a variety of ways. Use the included boards to create colorful pictures, make free form shapes, or trace the shapes on paper.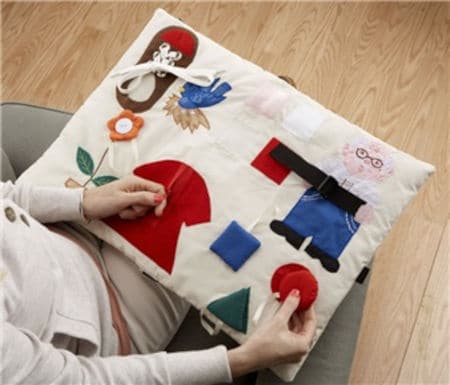 7 gifts that comfort and soothe seniors who are anxious or fidgety
1) $9 Tangle Therapy Relax Sensory Fidget Toy
This fun twisty fidget toy has a variety of textures and colors for tactile and visual sensory stimulation. It's silent and calming to use so it won't disrupt or disturb others.
2) $6 Pro-Tec Spiky Massage Ball
This 3-inch diameter ball has a gently spiky outer layer that gives a massage effect.
3) Pop It fidget toys
Press the bubbles to make a slight popping sound. Then, flip it over and start over. These handy fidget toys are easy to clean and reuse.
4) Fidget quilts and soft items
These comforting items give nervous hands something soothing to fiddle with.
5) $45 Busy Fingers Weighted Fidget Lap Pad with 3 Activity Panels
This plush weighted pillow provides soothing pressure and calming benefits. Activity panels include: find hidden objects in the pellets, push a marble through a maze, or twirl and stretch fun colored coils.
6) Weighted blankets
Weighted blankets have been scientifically proven to relieve distress and anxiety. They're especially helpful for soothing people with Alzheimer's or dementia – day or night.
Note: If you're feeling crafty, we've also got DIY weighted blanket instructions here.
7) Custom photo blankets
These cozy blankets help seniors stay warm and cozy while keeping familiar faces nearby.
4 gifts that seniors can cuddle and care for
1) Stuffed animals
Cuddly stuffed animals like these give comfort and can become a pet or companion. We especially love this cockapoo puppy, this classic teddy bear, and this realistic plush Siamese cat.
2) $38 My Little Puppy singing plush puppy
This soft, cuddly puppy is 10 inches tall and sings "If You're Happy And You Know It." The best part is that it claps its hands and ears along with the song!
3) From $65 Joy for All Pet Companion robotic cat, puppy, or bird (Get 15% off cats or puppies with discount code CARE15 at checkout)
These lifelike and engaging pets are cute and cuddly soft. They're battery powered and can purr, meow, bark, move, and respond in realistic ways when petted or hugged. Find out more in our review here.
4) Therapy dolls
Therapy dolls can provide comfort and help seniors feel useful and needed because they have something positive to focus on. 
Dolls can also bring back happy memories of early parenthood for both women and men. They can also ease feelings of isolation and sadness because they have someone to love and care for. 
Find out more about the positive effect of therapy dolls for dementia here.
9 simple, entertaining books that bring back the joy of reading
1) Sunny Street Books – books designed specifically for dementia, $11
Each of these beautiful 40-page picture books will capture their attention, engage their mind, and encourage them to relax.
Each book has large photos accompanied by brief, large-print text captions.
2) 100 Short Stories for Elderly: Large Print, Easy-to-Read and Short Paragraphs – Perfect to Stimulate Memory, $14
These simple, very short stories are meant to evoke memories and feelings and encourage reminiscence. They use a traditional plot and storyline format.
3) Vibrant Photo Picture Books for Seniors (14 book series, sold separately), $11
Each of these picture books (sold separately) are designed with dementia in mind. Themes include animals, food & drinks, and nature. Each book has 40 beautiful, full-color photos and doesn't have any text.
4) Emma Rose Sparrow books for different levels of dementia, from $13
The author was inspired to write these books after both parents were diagnosed with dementia. Offered in 3 different levels, each book is formatted to be easy to read, doesn't mention dementia or cognitive impairment, and looks just like a "real" book.
Level 3: Short stories, formatted to appear as a 'regular book'. Each book has a pleasant and interesting story with a touch of humor thrown in. Features include: Larger text, short chapters, short paragraphs, extra white space, color photos that give visual clues to the subject.
Level 2: One large color photo with 1 to 2 short, large-print sentences below. Each page is independent of the other. Each book in this series focuses on a specific color. With titles like A Year's Worth of Yellow and A Gathering of Green, the reader will have a full "real" book experience.
Level 1: For book lovers who have reached a point of not being able to read words, but still love to hold and flip through a book. These are colorful picture books without any text, designed for adults.
See all Emma Rose Sparrow books listed here.
5) Animal- and nature-themed picture books, $10
These wonderful, calming picture books are perfect for everyone, but especially great for animal and nature lovers.
6) Two-Lap Books: Read-Aloud Books for Memory-Challenged Adults, from $26
These books encourage shared reading, reminiscence, and conversation through large, simple text and colorful illustrations about universally appealing activities.
7) $19 Blue Sky, White Clouds: A Book for Memory-Challenged Adults
This is a simple picture book for adults with beautiful, realistic photographs and large, easy-to-read captions.
8)
From $7 Memory Lane Books
These books are intended to help stimulate long-term memories of people who lived through the 1940s, 50s, and 60s in the USA and Britain.
Each book has sections on music, films, fashion, sport, holidays, and more. Plus, it has large print, short easy-to-follow paragraphs, and plenty of illustrations.
9) Make your own DIY custom photo storybook, from $20
Create a custom photo book and add your own text to tell a simple story.
Use photos of people, places, things, hobbies, or activities that have special meaning to create a book they'll love to flip through again and again.
7 practical gifts that make life easier and more pleasant
1) Specialized clothing for Alzheimer's and dementia
These practical, stylish, and comfortable outfits are specially designed for people with dementia. 
Prevent spontaneous undressing with stylish back-zip jumpsuits (some even look like 2 piece outfits).
Make dressing easier with soft fabrics and easy-to-use Velcro, snap, and zip closures
2) $20 Jumbo Large Print 2024 Wall Calendar
Being able to keep track of time and date decreases confusion and helps seniors stay oriented and engaged with the world.
This jumbo calendar (17 x 22 inches) is easy to see and understand and has plenty of space for making notes about appointments or special events.
3) $45 Essential Medical Supply Power of Red Complete Adaptive Dinnerware Setting for Alzheimers and Dementia with Plate, Bowl, Cup, and Utensil Set
In Alzheimer's patients, red colored dining ware is found to increase food intake by 24% and liquid intake by 84%.
This adaptive dining set includes a scoop bowl, scoop dish, bendable rocker knife, bendable fork, and nose cut out cup.
The bowl and plate have suction cup bottoms with raised rims that makes it easier to eat. Bendable utensils allow for easier eating for anyone and have a built-up handles for easier use. For easy clean up, the entire set is dishwasher safe.
4) $60 American Lifetime Extra Large Digital Day Clock
Being able to keep track of time and date decreases confusion and helps seniors stay oriented and engaged with the world.
This digital clock has an 8-inch large-font screen display, 5 alarms, and clearly spells out the time, period of the day, full day of the week, month and date.
This clock is available in several colors and screen sizes.
5) $98 Eatwell Assistive Tableware Set, 8 Piece
This award-winning assistive tableware set is designed for users with cognitive, motor and physical impairments.
It encourages independent eating and is designed to increase appetite and reduce visual confusion. It also has added stability to help prevent spills and dropped foods.
Find out more about this set here.
6) Music players designed for people with dementia
These simplified music players are designed to be easy for people with cognitive impairment to use and have very few buttons or controls.
7) Walker accessories that add personality
It can be a challenge for someone with dementia to remember that they need to use a walker.
For some people, adding personalization, color, and flair that makes their walker stand out and look like something that belongs to them is a great reminder. 
Consider tying on ribbons in their favorite colors, adding a laminated sign with their name, or adding some of these fun and functional walker accessories:
$65 Joy For All's Walker Squawker – these cheery, interactive birds attach securely to a walker and sense light, sound, touch, and movement. They mimic the sounds of real birds, and sing along as they "unlock" 6 songs. When it detects that walking has stopped, it will playfully sing a "don't forget me" song to remind its owner of its presence.
Walker grips – fun colors liven up the walker and add extra comfort. Plus, they're washable, so they improve hygiene as well.
Walker caddy bags – stylish, convenient, and hands-free way to carry essentials while using a walker or rollator. They're lightweight, water-resistant, washable, and available in a variety of colors/patterns.
Rollator covers – stretchy covers transform standard rollator walkers into fun personalized accessories. They come in a variety of colors and patterns and are washable, which makes it easier to keep them clean.
2 gifts that encourage conversation and reminiscence
1) $35 Relish All About Us Dementia Board Game
This game is designed for people living with dementia, but can be enjoyed by the whole family. The aim of the game is to get talking – and there's no right or wrong way to play!
2) $30 Conversation Cards for Adults: Nostalgic Items and Familiar Words
These 52 two-sided cards include over 450 questions designed to encourage reminiscing and storytelling. 
The front of each card has a large color photo and the name of the item in large print text. 
The back of each card features nine questions that are designed to have no right or wrong answer. Questions also include open and closed-ended either/or, and "Did you know" trivia questions.
Recommended for you:
Author: Connie Chow, founder at DailyCaring, was a hands-on caregiver for her grandmother for 20 years – until grandma was 101 years old! Connie has an MBA from the University of Southern California and has been featured on major news outlets, including WJCL22 Savannah (ABC), KRON4 San Francisco, NBC10 Philadelphia, 23ABC Bakersfield, KAGS Texas (NBC), and KVAL13 Oregon (CBS). She has spoken at Institute on Aging, written for Sixty and Me, and been quoted in top publications, including U.S. News & World Report, HuffPost, and Society of Senior Advisors.
Image: SPC Care Homes
This article reflects prices at publication, but prices and availability may change. This article wasn't sponsored, but contains affiliate links. If you buy through an affiliate link on our site, we may earn a small commission, at no additional cost to you, and we appreciate your support. We never link to products or services for the sole purpose of making a commission. Recommendations are based on our honest opinions. For more information, see How We Make Money.
---