Date published: 2022-12-08
Looking for the perfect gift for a senior woman?
To help you find a wonderful gift she'll love, we've rounded up 33 fantastic gifts for senior women.
There are 7 gift categories and dozens of product suggestions.
There are cozy comforts, lovely memories, everyday luxuries, household upgrades, cheerful accessories, mobility aids, tech tools she'll love, and helpful delivery and transportation services.
You're sure to find a thoughtful gift for the senior women in your life.
Browse 7 categories of gifts for senior women
To make it easier to browse these gift ideas for senior women, click these links below to jump directly to one of the seven categories on this page or keep scrolling to browse the full list.
6 cozy comforts
1) House slippers
Soft, warm, non-slip house slippers keep seniors comfy while lounging at home.
2) Comfy slipper/shoe hybrid
For those who enjoy a more substantial slipper, these comfy slipper/shoe hybrids are great.
3) Luxurious robe/wrap
A plush robe or wrap makes chilly mornings or days much more pleasant and cozy. We recommend a shorter style to avoid the possibility of tangling or tripping.
4) Warm blanket/throw
A warm blanket is wonderful in winter and can also be used all year round to make a couch or recliner even cozier and more comfortable.
5) Soothing massager
Get a soothing, warm massage anytime to ease aches and pains.
6) Weighted blanket
Weighted blankets have been scientifically proven to relieve distress and anxiety. They're especially helpful for people with dementia and also great for anyone who has trouble sleeping, feels anxious, or would just enjoy feeling more relaxed.
Note: We've also got DIY weighted blanket instructions here.
3 keepsake memories
1) Create a special photo book so your older adult can reminisce anytime
2) Create a custom photo calendar that shows smiling family faces
3) Create a fun custom photo puzzle
Use family photos or pictures of places with special meaning to create a fun puzzle your older adult can put together again and again.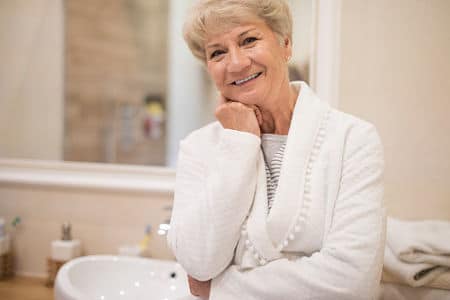 3 everyday luxuries and simple updates
We often forget how much joy everyday household items can bring. A few strategic updates (like new sheets or towels) can have a big positive impact on quality of life.
1) Beautiful bedding
2) Bathroom essentials
3) Bidet
5 cheerful everyday accessories
1) Eyeglass chains
Reading glasses can be easy to misplace. These lovely eyeglass chains add some flair and keep glasses close at hand.
2) Innovative reading glasses
These ultra thin, ultra light reading glasses gently grip the nose (no arms!) and can easily be tucked into a pocket. They're also available in a variety of clever, convenient designs.
3) Walker handle cushions
These fun colors liven up the walker and add extra comfort. Plus, they're washable, so they improve hygiene as well.
4) Walker caddy
This is a stylish, convenient, and hands-free way to carry essentials while using a walker or rollator. These caddies are lightweight, water-resistant, washable, and available in a variety of colors/patterns.
5) Rollator covers
These stretchy covers transform standard rollator walkers into fun personalized accessories. They come in a variety of patterns and are washable, which makes it easier to keep things clean and sanitary.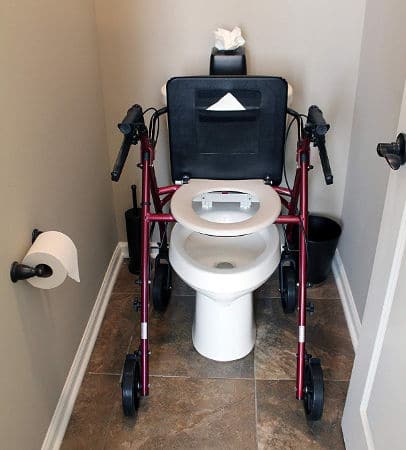 6 helpful mobility aids
For older adults who use mobility aids, a beautiful new cane or walker is a wonderful and practical gift. We especially like the clever design of the Free2Go Rollator.
1) From $24 NOVA Designer Walking Cane with Offset Handle
This cane comes in a variety of beautiful colors and patterns.
2) $29 Hugo Mobility Adjustable Quad Walking Cane with Small Base, Cocoa
A lightweight quad cane in a lovely shade of cocoa
3) $95 Vive Carbon Fiber Quad Cane Ultra Lightweight Walking Stick
Get the extra stability of a quad cane without the weight.
4) $67 Drive Medical Four Wheel Rollator with Fold Up Removable Back Support
This rollator walker is easy to maneuver, lightweight, and has a handy seat and backrest for rest breaks
5) $249 Drive Medical Nitro Euro-Style 4-Wheel Rollator Walker With Seat
Review from a family caregiver: "This rollator is really nicely made. I'd compare its frame to a decent road bicycle frame in terms of stiffness, welds, finish, etc. It really looks sharp, too. A far cry from the bare aluminum ones that are wobbly and cheap looking, and also a step above the intermediate ones with painted frames but still are kind of spindly. Gary got a TON of compliments on it."
6) $260 Free2Go Rollator
This innovative rollator restores independence and dignity by combining the benefits of a rollator and raised toilet seat. It allows someone with reduced mobility to safely and independently use any toilet with confidence.
7 tech tools they'll truly enjoy using
1) Digital photo frame
A digital photo frame is a wonderful way to view family photos. Some even allow family to add photos via email or through a mobile app.
Note: Check the product description to see if the digital photo frame requires a separate, low cost USB stick flash drive or SD memory card to store the photos.
2) Smart digital photo frame with video calling
Another great gift is the ViewClix Smart Frame. It's a digital photo frame with video calling and an auto-answer mode.
When auto-answer is set up, the older adult doesn't need to do anything to receive a video call. This is especially helpful for making video calls to someone with dementia or who isn't able to physically answer a call.
There's a 10.1-inch screen size ($219) or 15.6-inch screen size ($299).
3) From $85 Amazon Echo Show "Alexa" voice assistant with video calling
The Amazon Echo Show is an Alexa personal voice assistant with a video screen. It's similar to the Echo or Echo Dot, with the addition of a video screen.
To make video calls without your older adult needing to take action to accept the call, use the Echo's "drop in" feature.
There are three types of these devices at different price points based on screen size, camera quality, and release date:
4) $100 Amazon Echo (4th Gen) "Alexa" voice assistant with voice calling
This hands-free, voice-controlled device has a spherical design with rich sound, smart home hub, and Alexa.
It makes voice calls, plays music, gives weather reports, reads the news, answers questions, tells jokes, reads audiobooks, checks sports scores, and more. 
Set up the "drop in" feature to make voice calls to people who aren't able to actively answer a call. Find out more about how Echo can help people with dementia.
5) $50 Amazon Echo Dot (5th Gen, 2022 release) "Alexa" voice assistant with voice calling
The Echo Dot has vibrant sound and the Alexa voice assistant in a compact smart speaker.
Set up the "drop in" feature to make voice calls to people who aren't able to actively answer a call. Find out more about how Echo can help people with dementia.
6) Lively Easy-To-Use Mobile Phones
These easy-to-use mobile phones are designed especially with seniors in mind.
The phones have large screens, big buttons, loud speakers and have additional health and safety features like app link for families, 5Star Urgent Response, Urgent Care doctors and nurses, live Personal Operators, and connection to Lyft.
7) GrandPad Simple and Safe Tablet, from $65/month
This simple, secure tablet is perfect for seniors who want to video call with family and friends, safely browse the internet, view photos, listen to music, and more.
The tablet, cellular data, software, and 24/7 customer care are all included in the monthly fee.
Top features include: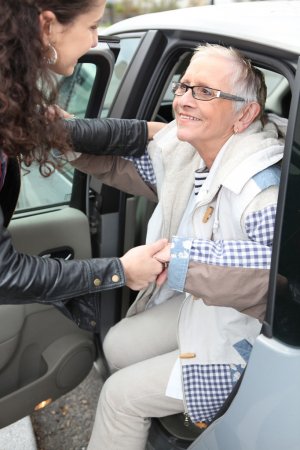 3 delivery and transportation services
1) Grocery delivery services
Many older adults have been enjoying the convenience of grocery delivery services. Gift cards for these services are thoughtful and practical presents.
Grocery delivery is available from a variety of stores, including:
2) Restaurant delivery
Many restaurants have also expanded their delivery services.
Giving them a gift card to a local restaurant that offers home delivery means they can enjoy their favorite meals without needing to go out.
3) Transportation services
When your older adult needs to leave the house, private transportation is faster and safer than public transportation. Consider these gift card options:
Recommended for you:
By DailyCaring Editorial Team
Images: Vista Prairie Communities, Amazon, Hospitality Home Care, Vimeo

This article reflects prices at publication, but prices and availability may change. This article wasn't sponsored, but does contain affiliate links. If you buy through an affiliate link on our site, we may earn a small commission, at no additional cost to you, and we appreciate your support. We never link to products or services for the sole purpose of making a commission. Recommendations are based on our honest opinions. For more information, see How We Make Money.
---
(Visited 521,106 times, 325 visits today)