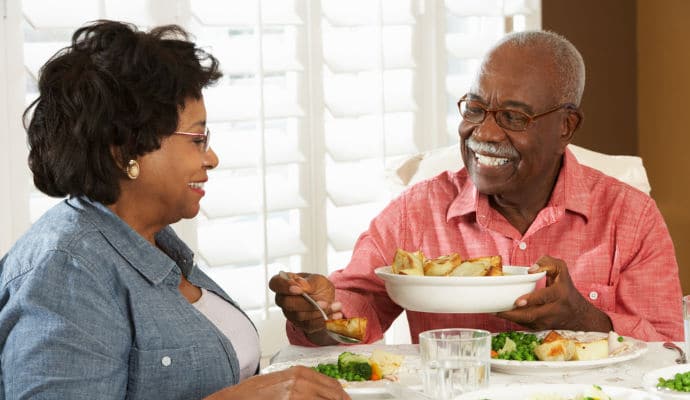 By Connie Chow, Founder at DailyCaring
Caregivers struggle to nourish seniors with no appetite
Getting seniors who have no appetite to eat can be a challenge. 
There are many reasons why some older adults lose their appetite or refuse to eat.
But that doesn't change the fact that you're worried about them and are doing your best to give them the nutrition they need.
Sometimes simple changes can make a big difference. We share 6 suggestions for encouraging seniors who have lost their appetite to eat.
When trying these ideas, be patient, be creative, keep experimenting, and do your best not to get discouraged.

First, rule out serious health problems
The first and most important thing to do is rule out serious health conditions, medication side effects, or dental problems as the cause of their loss of appetite.
If these issues aren't causing the loss of appetite, your best bet is to experiment with different ways to get your older adult to eat.
6 ways to get seniors with no appetite to eat
1. Have a regular meal and snack schedule
Having a regular daily routine and serving food at roughly the same times every day helps their body be ready to eat at those times. 
Don't rely on your older adult's ability to feel their hunger (it declines with age) before giving them food.
2. Serve smaller portions of high nutrient foods
Some people may feel overwhelmed if they see a large amount of food in front of them. Instead of a big plate, serve smaller portions.
Or, you could try switching to a daily routine where your older adult eats 5 small meals instead of 3 larger ones.
Boost the healthy calories in those smaller servings by adding:
Avocado
Finely chopped meat, cheese, egg
Olive oil
Peanut or other nut butters
Soft cheeses like ricotta or mascarpone
To save time, you can still cook food in larger batches. Just store it in smaller individual containers so it's easy to heat and serve.
3. Reduce the need for utensils
The frustration of not being able to use a spoon, fork, or knife could make some older adults not want to eat at all. 
To help them eat more easily, try serving foods that can be eaten without utensils or trying adaptive utensils.
Some suggestions:
Chicken strips or nuggets
Fish sticks
Steamed or raw veggies like carrots, broccoli, bell pepper strips, or cucumber pieces
Meatballs
4. Have plenty of easy-to-eat snacks on hand
Some people might prefer to graze throughout the day rather than eat full meals. That's ok too. 
Keep plenty of healthy, delicious, and easy-to-eat snacks available so they're choosing from nutritious options.
Some suggestions:
Cheese sticks or string cheese
Full-fat yogurt
Diced fruit, fresh or packaged
Peanut butter and crackers
Cheese and crackers
Full-fat cottage cheese
Whole milk or chocolate milk
5. Make milkshakes or smoothies
If chewing is difficult or tiring, even with small pieces of food, consider serving softer or more liquid-y foods.
Some suggestions:
Nutritious soups – enhanced with cream, olive oil, or pureed meats and veggies
Healthy smoothies – add bananas, fruit, full-fat yogurt, or veggies like carrots and spinach
Hot cocoa
Full-fat milk
Milkshakes – good quality ice cream is better than eating nothing!
Important: This is not a safe solution for those with dysphagia (swallowing problems).
6. Keep track of what works
Take notes so you can keep track of the foods that your older adult enjoys, things they don't like, and things that might be difficult to eat or are harder to digest.
You can also track what times of day they're more willing to eat or when they have a better appetite. 
Keeping track lets you experiment more with things that are working and avoid the things that aren't.
Next Step  Get 9 more ideas for encouraging seniors with no appetite to eat
Recommended for you:
Author: Connie Chow, founder at DailyCaring, was a hands-on caregiver for her grandmother for 20 years – until grandma was 101 years old! Connie has an MBA from the University of Southern California and has been featured on major news outlets, including WJCL22 Savannah (ABC), KRON4 San Francisco, NBC10 Philadelphia, 23ABC Bakersfield, KAGS Texas (NBC), and KVAL13 Oregon (CBS). She has spoken at Institute on Aging, written for Sixty and Me, and been quoted in top publications, including U.S. News & World Report, HuffPost, and Society of Senior Advisors.
---